Welded Gabion Box
Easy to install
Field installation is quick and easy. In fact, installation time can be as much as 40% less than required by hex type gabions. With diaphragms and stiffeners installed,the gabion may be filled with standard loading equipment.After filling the gabion, a lid is placed on top and secured with spiral binders,lacing wire or "C" rings.
Unlike hexagonal units, QiaoShi welded wire Gabion hold their shape better – they don't bulge out when filled .They are easy to handle,which means more work,less labor and highter productivity an the job.
QiaoShi Welded wire Gabion are made by one of the nation's leading manufacturers of welded wire mesh. Each gabion is constructed of rugged hight tensile wire which is coated with a thick, cor-rosion-resistant layer of zinc. The wire is also available with a tough,durable PVC coating. The jality materials results in a longer,gabion life. QiaoShi welded wire supplied from stock in a complete Custom sizes to fit unique site con-ailable on special order.
Coating Properyt

Test Method

Value

Tensile Strength

ASTM D638

2275Min

Elongation

ASTM D638

290% No Break

Hardness

ASTMD2240

75Min Shore A

Salt Sproy

ASTM B 117

3000hrs.no effect

Exposure to
Ultraviolet Light

ASTM 1499
ASTMG23

3000hrs
Galvanized Coating
ASTM A 90 Standard Tedst Method for Weight of Coating on Zinc-Coated(Galvanized) lron or Steel Articles ASTM A 641" Standard Specifications for Zinc- Coated (Galvanized ) Carbon Steel Wire " Riverdale mesh exceeds Class 3 zinc coating weights.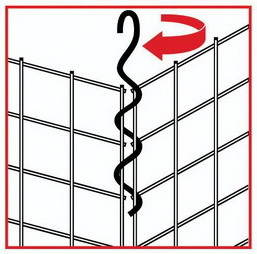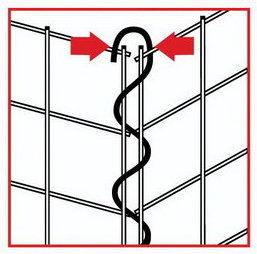 Welded Wire
ASTM A 185 "Standard Specifications for Steel Welded Wire Fabric ,Plain for Concrete Reinforcement ASTM A370 Standard Test Methods and Definitions for Mechanical Testing of Steel Products.
sizes of gabion

amount of diaphragm

Standard of gabion

spiral spindle

L*W*H(cm)

300*100

300*50

200*100

200*50

150*100

150*50

100*100

100*50

50*50

150

100

50

300 x 100 x100

0

4

2

8

8

2

4

4

8

16

4

300 x 100 x50

0

2

2

2

8

4

4

2

2

2

4

8

8

8

300 x 50 x100

0

2

2

2

8

4

4

2

2

2

4

8

8

8

300 x 50 x50

0

4

2

8

16

2

4

4

8

8

200 x 100 x100

0

4

2

16

1

4

3

20

200 x 100 x50

0

2

2

2

12

4

1

2

2

3

14

6